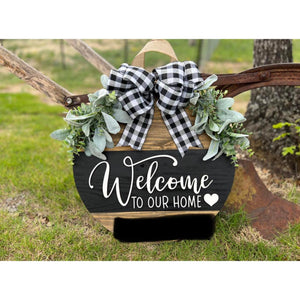 Welcome To Our Home Door Sign
Welcome guests with this adorable sign that can also be personalized with first names or a family name.  Laser cut words on a 1" thick round door sign.  Sign is approx 18" round in black and white with bow and greenery.  Sign will do best out of direct elements, such as a covered porch.  Ribbon attached to hang with.
Note ~ name is blackened out in the photo.
These are all wood, some natural variations may occur

Sign is recommended for use on a covered front door or porch, out of direct elements.

Please allow 7 days to ship